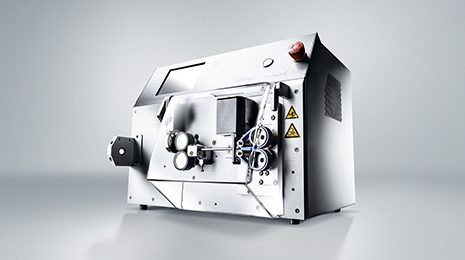 Kappa 310 – fast from 0.02 mm²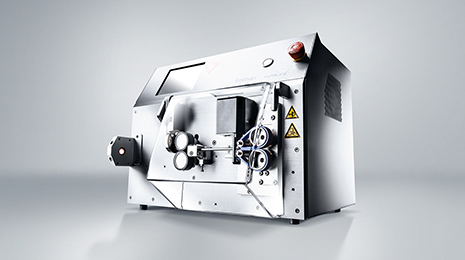 Kappa 310 is an ultra-compact high-speed machine for reliable controlled processing of the smallest cross-sections from 0.02 mm² to 6 mm²:
ultra-fast cutting and stripping for high production output
powerful drive axles for extremely high cable transport speeds
wire feed parts can be changed without tools
minimal setup thanks to unique sensors
memory for process parameters, including programmable wire applied pressure valves
processing set for short wire lengths starting from 18 mm
High-performance, even for small cross-sections.
Cutting force, high volume output and advanced sensor technology make the Kappa machines the number one choice for automated cutting and stripping, even for smaller wire cross-sections. The machines can work efficiently thanks to their simple, intuitive control elements.
TopWin Kappa – enhanced capabilities
The TopWin Kappa operating software expands the capabilities and functionality of Kappa machines via a PC user interface. Customer can control Inkjet printing in multiple positions, mirror printing and double-sided labels, including everything from pre-printed wires to logo markings and more.
Intelligent economical production
Products with the same wire are produced without cuts and therefore more economically with the help of job lists. Sequence production and part list processing are also possible. Products may be loaded directly into the job list, even while production is running. Minimizing changover thanks to automatic sorting of the different products.
Different types of production as required
Depending on the production process, part lists or sequences can be produced as multi-lead sets or as cable harnesses. In addition, TopWin makes it possible to verify materials, detect material changes or print commercial documents.
Perfectly networked
Customers can easily intergrate Topwin Kappa into networks via the WPCS interface, including, for example, existing user networks. The production-control room software also enables centralized data management;  production control and production monitoring.
Wide range of applications
The Kappa product family stands out thanks to its extremely broad processing range. Its intuitive and simple operation and controls allow you to easily set up even difficult-to-process materials, with extremely fast tool-free changeover to new types of wires.
Fast, simple operation
The intuitive TopTouch operating software guides the user through the process logically. During production, operators have maximum transparency thanks to simple adjustment settings for important parameters. This makes the Kappa machines especially intuitive and safe to operate.
Automatic diameter detection
The sensor-enabled wire diameter and cross-section detection makes it possible to set up and parameterize new wire materials at the push of a button. The unique, tool-free measuring principle reduces time-consuming setup to a minimum, while  the optical wire monitoring help minimize the cut losses. The laser sensor continuously checks and immediately detects wire ends and stripping errors during production.
Versatile integration and interfaces
Customer also can intergrate Peripheral devices such as wire feeding systems, markers or deposition units as standard. Customer can set up up to four peripheral devices depending on the model. The machines also have a USB port for:
data backup
software upgrades
product and wire import as CSV files product and wire import as CSV files