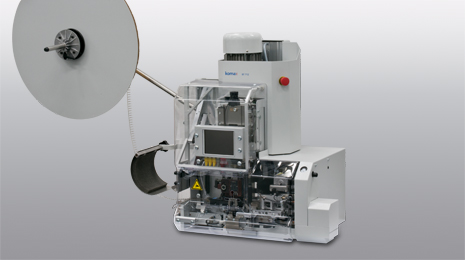 Komax bt 712 – BenchTop crimper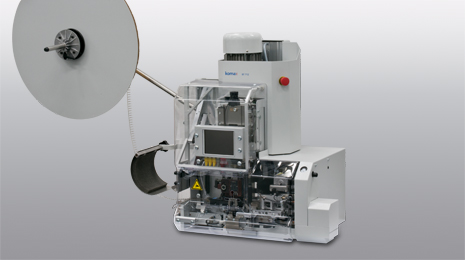 Komax BT 712 BenchTop crimper is a precise semi-automatic crimper press with great functionality and big benefits to users, all at good value for the money.
Function
The semiautomatic bt 712 BenchTop crimper is compelling for its modern technology and sets new standards in quality and speed. This all-purpose crimper accommodates the use of all common commercial crimping tools so individual crimps previously done manually can be processed on it with great precision. In terms of safety features, the bt 712 has a safety cover equipped with a dual-channel safety system (RCS).
The software (currently in 16 languages) can be operated from a small touch screen interface (TCI). The crimper has a service tool integrated with a data memory for storing up to 500 articles, for making backups and for uploading updates.
The crimp force analyzer that comes with the crimper detects good and bad wires reliably and provides a detailed description of errors.
Proven and useful options such as short cable supernatant, bad crimper cutter (BCC) and a teminal strip chopper can all be integrated in the crimper to boost efficiency and process quality even more.
Quick changeover, setup and cycle times
Active quality monitoring even during setup
Minimal material used during setup
Integrated crimp force analysis CFA/CFA+
Easy to operate with TopTouch
Saving of machine and processing parameters
Good/bad sorting through elimination of bad crimps
Technical Data of Komax BT 712
| | |
| --- | --- |
| Cross section range | up to 6 mm² (AWG10)* |
| Crimp force | 20 kN (2 tons) |
| Adjustable crimp height | +5.00/-3.00 mm |
| Resolution | 0.01 mm |
| Repeat accuracy | +/-0.01 mm |
| Stroke | programmable 10 – 40 mm |
| Cycle time (crimping) | 0.3 sec |
*Depends on the crimping tool/with optional short shield length of 23 mm
Application
| | |
| --- | --- |
| Cutting pulled strands | |
| Precision cut | |
| Full stripping | |
| Half stripping | |
| Multi-conductor cable processing | |
| Crimping | |
| Double crimping | |
| Split cycle for closed barrels | |